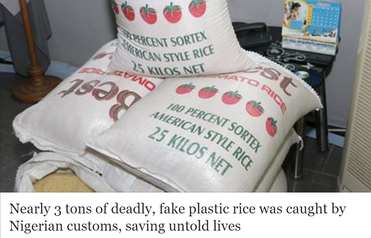 Source: mind. com - An incredibly large shipment of plastic rice was confiscated by Nigerian customs officers, preventing a potentially horrific health crisis had they made their way into the food supply.
"Only God knows what would have happened" if people ate the fake rice, said Lagos customs chief Haruna Mamudu.
Sickeningly, the plastic
looks and feels like real rice
. It even seems like rice when it's cooked, as it gets soft and sticky. There is a slight difference, in that it gives off a slight chemical smell and becomes excessively sticky, but not different enough to guarantee it would have been caught by every restaurant or consumer it passed hands through.